Letter from James and Aunt Marcee
August 31, 2007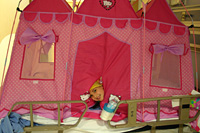 New Prayer posted August 31, 2007 at 2:50 p.m.
August 26, 2007

Sunday morning, Sydney is in Lynette's lap, we are watching her heart rate and blood pressure. They have been high since last night. If it doesn't improve they will do an ekg, to see if some part of her heart is functioning properly.

Sydney looks like she has been in a wreck. Her right eye is half closed and her face is puffy, she doesn't talk, maybe one word a day. She does communicate with us some of the time with a barely detectable nod down for yes or one side nod for no. Other times she is either asleep or her eyes or eye is open but there is no connection.

It seems one moment she is failing and the next rallying. Her white count comes up, her heart does poorly. Her fever improves and liver function worsens.

Sydney takes a short walk once a day. She looks to be in a trance, and is very weak and trembling. When we get back to her room we ask if she wants to get in bed or walk another lap. Every time, she turns and heads down the hall for another lap. Lynette steadies her, and controls her lines. I push the IV pole and try not to run over anyone's heels. The nurse pushes her oxygen.

August 27, 2007

We are trying to walk by faith and not by sight. Each day we get something encouraging. Today we asked Sydney how she is doing, she answered "Good". We now connect with her everyday. The hospital is a beating, and yet we also have a good time.

They told us today the latest fungus measurement was the highest ever recorded in Sydney. That can mean the fungus is being broken up or it could mean the fungus growing. Sydney is clinically improving.

We always have family here with us supporting or every need.

Grateful to you,

James

August 31, 2007 8:45 a.m.

They awoke us to take Sydney down for a sonogram. Sleeping at the hospital is broken at best. They wanted to look at her liver, because some test results have been trending into negative territory. The technician said everything looked normal.

Sydney is communicating well; she even said a few words. She can not stand alone without loosing her balance; I hope that is drug related. GVHD has shown up on her skin. The doctor believes it to be manageable.

The head doctor believes her bone marrow is good, and we just have to get past this fungus.

Grateful,

James

Answered prayers
Sydney is connecting with us.
God has sustained her.
The boys are doing well.
Please pray . . .
We walk by faith and not by sight.
Sydney's immune system comes back quickly.
There is no damage to her brain or any other part of her body.
---

I am Aunt Marcee, Lynette's older sister and James has asked me to write an update from my own perspective. First, I would like to thank all of you for your thoughts, prayers and acts of love for our family. It is truly amazing to see the body of Christ in action. Everyday we start by building each other up in God's word with daily readings from "Streams in the Dessert" and Joni Eareckson Tada's daily e-mail devotional. We try to get Sydney to respond to us with at least on word. Today she responded "good" when Lynette asked how she felt. We have created our own community here. We know and love all of our nurses and count them as friends. I can't explain the humorous things that occur in this room, but they do and laughter can be heard at times in the hallway. Many of you know James' sense of humor, what a blessing it is! Lynette and I have long talks about our walk with Christ, family and life in general, hearing her insights are priceless to me (since most of it is about me! Just kidding, sort of). Our parents are here right now and we take turns coming in and out of the hospital and some of the time we all end up here together talking and laughing. There is no telling the stories Syd will tell, we never know if she is really asleep, because if she doesn't want to talk to someone she will pretend to be asleep. We are believing that the Lord is completely restoring Sydney. We praise Him everyday even though it is hard a lot of the time. We support each other when our faith starts waning. We end every night with a prayer for healing and protection over Sydney and our families we have left in Texas and all of you. James and I alternate spending the night, Lynette, ever vigilant feels she must stay. The Lord has truly sustained her health on limited and broken sleep. Hey! That's one more thing to be thankful for! We pray God's blessings over all of you.

Love,

Aunt Marcee