Letter from James and Lynette
May 10, 2007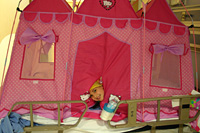 May 10, 2007 9:52 PM

I arrived in New York five days ago. Sydney and Lynette had been up most of the night. Sydney looked terrible and felt even worse.
Lynette was under horrible strain. I watched her face; worried that she was sinking into hopelessness. It has been nothing short of direct intervention by God that she has been upheld and able to continue on. The daily struggle of caring for Sydney is exhausting. Our family takes shifts at the hospital, everyone except Lynette. When Sydney is in this bad of shape she doesn't like Lynette to leave. The hospital room is stressful and uncomfortable. Uncomfortable because you wear these hot smocks, suffocating mask, and gloves the entire time you are in the room. It is stressful because Sydney is in and out of pain, which exhaust her and us. Her skin is peeling off like a snake, her intestines often have painful spasm, and she has diarrhea numerous times a day and night. Since this began there have been so many nightmare periods where it looked as if Sydney was sinking and would not survive.
Lynette is very strong, but I don't think anyone could stand up under this strain for this long, one full year this Mothers Day weekend. As Sydney's pain increases Lynette moves and talks to Sydney in a confident, gentle and calm manner. It is contagious. The only explanation for her strength is Christ in her. I was worried because of the strain and fatigue on Lynette's face, that she might not be able to come back up for air this time. I am having a hard time describing what happened next, but Lynette's face was almost shaking in pain and despair. Then with an uncontrived confidence she said, "He will deliver us". Not trying to convince herself, It was more like I know it looks bad, but from the deepest part of me I know who I serve and He will not let our feet slip. This too is contagious.
Sydney has been given steroids for a week. She has not responded as well as they would have hoped, but she has stabilized. They are adding another agent today. Her skin is improving. Liver has improved. She has gvh-d and two viruses.
I think it is kind of like this. We have lost an engine and the other one is not running great. However we are slowly gaining altitude. The weather is poor. We are surrounded by mountains and we have to gain more altitude to survive.
Grateful for you,
James Thweatt
Answered prayers
Medical team we love
No cancer
United family and dear friends
Please pray . . .
GVHD and viruses goes away
Protection from new infections
Complete restoration
---

I am thankful for my Lord Jesus Christ, who never fails to sustain and strengthen Sydney and me; and for all of you who never cease to lift up and encourage us.

Love,

Lynette