Letter from James and Lynette
Week of April 8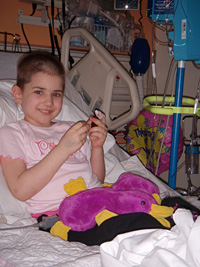 Easter Sunday, April 8, 2007

HE IS RISEN!

HE IS RISEN INDEED!

Today is Easter Sunday, there were flakes of Snow falling on the roof. I stood watching in awe. What a perfect symbol of what today represents. "For God so LOVED the world that He gave His one and only Son, that (John 3:16) Christ bore my sin and they are as white as snow. It also reminded me of His grace and mercy on me and where He has brought Sydney and our family. I have seen supernatural faith in me. I know it is supernatural because when I try to be faithful in my own strength, I am weak, discouraged and frankly scared. I am sad to say turning to my own strength is still usually my first reaction. The weekend before Easter we all had great anticipation for the coming weekend. We would all be together for Easter (and not only us, but Aunt Becky, Nana, Deda, and Grandmommy) and Sydney and I had so much planned. Then Sydney broke out in a rash.

We were perplexed. After several days and several doctors visits including a dermatologist who felt it was hives. We are so appreciative for the doctors quick move to diagnose Sydney. I did feel relieved. Because I was caught a little off guard and of course turned to my own rational, it took me a couple of days to calm down and trust the Lord. Sydney did not feel quite as energetic on Benadryl and the weather was quite cold so we did not do any of the outdoor adventures we planned. However, we were all together and the boys were troopers and they thoroughly entertained Sydney. We had a wonderful celebration on Easter.

Monday, April 9, 2007

We got up early and want to Clinic so that we would have time left to spend with Jack, James, and Becky who are leaving today. At Clinic we found out that the rash could be a virus. This is more complicated, because of Sydney's immune system. Sydney has had no fever and appears to feel good. "Lord, how could she have a virus?", I thought. "We were moving in the right direction", I thought. "Please don't let her have a virus, Lord". I was mentally exhausted. I came home and found some of the verses so many of you have sent us.


In the beginning God created the heaven and the earth" (Genesis 1:1)

Humble yourselves in the sight of the Lord, and He shall lift you up. (James 4:10)

For the Lord thy God is with you wherever you go. (Joshua 1:9)

Trust in the Lord with all your heart and lean not on your own understanding, in all your ways acknowledge Him and He will direct your paths. (Proverbs 3:5-6)

My grace is sufficient for you. (2 Corinthians 12:9)

I can do all things through Christ which strengthens me. (Philippians 4:13)

I needed the review. I also received calls about people praying for us and this always brings me joy and is very much appreciated. Prayer is so powerful and is always encouraging.

Sydney has felt great and looks great. She has had incredible energy playing with her brothers and her dad. I will miss them tremendously. I realize I am looking forward to going back home and letting Sydney have a little more "normal life". Normal does not mean what it used to. I am now trying to think of normal from Joseph's or Paul's perspective. I don't want things to be the same, I have learned so much and have drawn closer and closer to the Lord. I have never felt my true purpose as clearly as I do now. There is no doubt I continue to need work on seeking Him first, then I wouldn't be disappointed when things don't go as I planned. I also think I might learn a little faster!

I am ALWAYS thankful for all of you and REJOICE when I read e-mails or receive calls. I am most grateful that you are still hanging in here with us, that is amazing to me. I am so blessed.

Love,

Lynette

Answered prayers
There are so many answered prayers! Sydney is a miracle.
We are surrounded by faithful believers.
God has provided gifted and caring doctors.
Please pray . . .
Sydney continues to get stronger than before.
He continues to guide the doctors.
We keep our eyes on Jesus and bring glory to Him.
---

Johnson and I are on our way back to Dallas. I was anticipating a peaceful, fun celebratory Easter weekend, because of the perfect bone marrow biopsy. A few days before we were to head to New York, a rash broke out on Sydney. The AP (attending physician) didn't think it was G vs H (graft verses host disease), but said, "sometimes what looks like G vs H isn't and what does't look like it turns out to be G vs H. The next day they went back to clinic and a different AP said she didn't think it was G vs H, then she personally got us immediately into a dermatologist who specializes in cancer. The doctor walked in and said it was definitely not G vs H, and it was probably a food reaction. It is hives. What a relief.

Our AP doubted it was a food reaction. Our peaceful celebratory weekend looked to be back on track. Except Sydney didn't have much energy, because of the benedryl. She threw up a little, which is not terrible uncommon. The hives were moving from the top of her body to her lower extremities. A few weeks ago, Linda, a friend of Lynette's on the dreaded 9th floor, called asking for prayer, because her son, Shawn, was in bad shape. We asked many of you to pray, and he has made a big turn for the better. Another little guy we have prayed for, who has had a rough go of it was released Monday. Thank God. Last Friday, Lynette and Sydney went by another young man's room on the 9th floor who Lynette and her family befriended. His family apparently lived far away and was unable to visit him much. Lynette's mom would make him different food that he was craving. Sydney loves him, like all boys, but I'll worry about that later. Recently the doctors told him there was nothing more they could do to help him. He is a friend of Shawn and Linda. He told Linda his prognosis; he was worried that it would upset her. She had recently shared her life and Christ with him. He prayed with her. He died on Easter.

Monday, we went to clinic and the AP informs us that a virus showed up in Sydney's blood work. This probably explains the hives. The virus risk varies from nothing to very serious. They want to see if it shows up in a blood test taken yesterday, we should have the results by Wednesday.

Grateful to you,

James