Letters from James and Lynette
03/26/2007 and 03/27/2007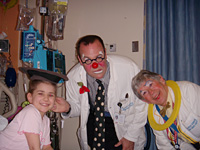 March 27, 2007

This afternoon the doctor called with great news - no cancer and no monosomy 7 in last Friday's biopsy. Praise God from whom all blessings flow.

March 26, 2007

Johnson (10) and I are on the plane returning to Dallas. It has been a fun and busy weekend, with heaviness as we wait for the test results. It could be today, tomorrow or the next day.

Yesterday, Sunday, we walked to the park. At The Boat House restaurant a friend of Aunt Marcee's left Sydney a present. The thoughtfulness shown to us never stops. Johnson has been begging to rent bikes and ride around the entire park, so we did. On our way back we stopped by Famiglia Pizza Parlor, they know not to touch Sydney's pizza with their hands after they cook it. It is one of the few restaurants we can buy Sydney food from, and often they treat Sydney to the pizza. We are shown random acts of kindness constantly. There are many more specific targeted acts of kindness we experience. As our family shares these numerous stories with each other, we laugh thru the tears as the waves of emotions roll over us, and we try to not fall down and blubber.

About an hour before sunset we looked out the apartment window and saw a big film crew at the corner. We hurried down to the street, it had gotten cold. We hung out at the corner in the middle of the crew, extras, and celebrity hounds like us. It was cold and no real action, until we saw Matt Damon across the Street. He waved at Sydney and Lynette. They were ready to shoot, so they asked us to move out of the various camera views. I roamed around looking over the director's shoulder as he watched the live feed through four displays. I got near the less well known actors. While Lynette did her usual non-aggressive thing and got as close as possible without being pushy. Apparently, one of the crew heard Sydney tell Lynette she wanted the pretty man's autograph, Matt Damon. The next thing I know Matt Damon is talking to them like they were old friends. Mind you, he is in the middle of shooting. My mom handed him one of Sydney bracelets, and he immediately put the purple bracelet on his wrist, and said when he gets home to his wife they will look up her website. He took a picture with Sydney and signed an autograph. Before he turned to go back to work he thanked them for the bracelet. He is a very nice person.

It's Monday, a few hours before we need to head to the airport. Lynette sends me to the hospital to pick up some supplies. On my way there I start to become a little more anxious. My mind starts to play out the different scenarios I might encounter. What if I see one of the doctors; do I ask them if they have gotten back any tests yet? Or maybe I should be a big guy and wait for them to call me. I entered the elevator headed to the dreaded ninth floor with a mother and her four year old boy, who was obviously recuperating from chemo, and some other people. One of the other ladies who is also heading to nine mentioned that she has been going to this floor since 2002. I know a lot of the drill, but my anxiety begins to rise a little more. I try to renew my mind with God's promises, and that produces a reasonable degree of peace. I take care of my business and do not see any of Sydney's doctors or nurses. I am feeling OK as I wait for the elevator to take me down. The door opens and I walk right by a Fellow (one of the number three level doctors) who has worked with Sydney. We made direct eye contact and then she immediately looked down and walked by. This is the same doctor that was so excited and tracked us down to give us the good news about some important test. Did she not recognize me, did she know bad news, was she thinking of something else? My knees were weak for awhile. Maybe when I land there will be a voicemail from Lynette reporting no monosomy 7.

I am in Dallas; no messages.

Grateful to God and you,

James


---

I am also grateful to God and to you!

The last two weeks have been great and difficult. It was great seeing James and the boys over Spring Break and Johnson and James this past weekend. The weather is getting nice, and we have loved exploring God's wonderful creation at the park. The difficult part was watching James and the boys leave. I MISS THEM! It was so hard this time. It took me a few days to remember to trust in God's timing; it is perfect. I am so blessed to have my sister and my other Mother (my mother-in-law, Sydney) here with me. And the rest of my family is either waiting to come or standing by ready to catch a flight as soon as they are needed. I know with Christ I am never alone, but I am literally never alone, and I am thankful.

We went to clinic this morning and as I signed in, I was told I would need to sign some blood research papers. As I sat in the waiting room my mind wandered. I had a pit in my stomach thinking about the possibilities. I said to myself, "Fear is not from the Lord", and prayed that Christ would take away my fear. My mind went to Isaiah 40: 30-31, "Even youths grow tired and weary, and young men stumble and fall; but those who hope in the Lord will renew their strength. They will soar on wings like eagles; they will run and not grow weary, they will walk and not be faint."

I am thankful for the little scripture I do have memorized but, "Renew your mind with truth" has new meaning to me now. I feel an urgency to memorize scripture to use as weapons to combat the lies Satan uses to try to destroy the confidence I have in my Savior. I was feeling stronger as we were called to see the doctor. He was very pleased at the way Sydney looked clinically and physically. Her platelets held better this week. He is also optimistic about the pending test results. He is, however, 100 steps ahead and is already preparing for whatever the results might show. Thank you, Lord Jesus, for these dedicated doctors. We don't have any idea the hours they spend working for us.

We have returned to the apartment. Sydney is resting and planning her next excursion to the park. She wants to take her hovercraft she bought with Christmas money. We have to practice driving it before the boys return, you know. She is taking a break from the Wii (Jamesy got it for Christmas and left it here for Sydney to play with). She is sore from playing too much tennis!

Thank you all for your continued prayers. I do feel them. It brings tears to my eyes when I think about all of the people who have sacrificed and are still sacrificing for our family. We are so grateful to all of you. We are encouraged.

Love,

Lynette

Proverbs 3:5-6
Trust in the Lord with all your heart and lean not on your own understanding; in all your ways acknowledge Him, and He will make your paths straight.