Letter from James and Lynette
03/15/2007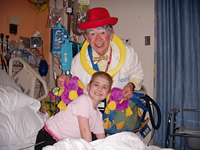 March 15, 2007

Dear All,

Sydney's bone marrow came back completely clean. No cancer. No bad chromosome.

Thank you Lord. Thank you for all your diligent prayers. Thanks to the totally committed medical staff in New York and Dallas.

The doctor called us to let us know the result. I think she was thrilled to give us the great news. We hope to find out more specifics tomorrow at clinic.

Aunt Marcee and our boys are here with us. Most days we push Sydney in her wheel chair to the park. Well, really Johnson pushes the wheel chair, and it is exhausting for me to watch. Sydney pretends she has a steering wheel and Johnson is supposed to watch her hands and go were see goes. Therefore, he is not watching where he is going, but Sydney loves it. He almost dumps her in the street at the intersection were the curb and street meet. We are germaphobics, and he zig zags and goes right next to piles of trash bags. He hasn't hit a pedestrian yet, but it's not because he isn't trying.

Once we get to the park, she gets out and runs around. Then on the way home we stop at a pizza parlor and they fix Sydney a pizza she can eat. After it is cooked they can't touch or cut it. They are very engaged in her progress. Yesterday they asked what the results of the biopsy were. Once we get back to the apartment we play Wii or other games. The brothers are very content to just hang around and do what ever Sydney wants to. It is almost a dorm setting, Lots of chaos and noise. Last night we stayed up too late and someone complained about the noise. We were celebrating, but we will more careful.

Grateful for you,

James


---

Dear Friends,

We are rejoicing and are still amazed at Sydney's progress. I want to thank all of you for your AMAZING devotion to our family. I thank Jesus Christ our Lord for all of you and your part in His miracle. You have helped me to press on. We are so blessed to have our family and all of you and a heavenly Father that loves us more than I can comprehend.

Love,

Lynette Psalm 121


---

March 16, 2007 4:54 PM

We just came back from clinic. The doctor asked for a moment with us and explained that after a more detailed study, one of the tests has shown one or maybe two monosomy 7 chromosomes. That is the bad chromosome. It could just be residual cells that was there pre- transplant, that is probable, because the bone marrow is showing it is 100% from the donor. They will do another biopsy next Friday to see where we are. We are prayerful that it will still show 100% donor and the monosomy 7 is gone!

Answered prayers
This week's bone marrrow biopsy shows 100% donor cells.
Sydney is getting stronger everyday.
Transplant is going well.
Sydney has had a great time this week.
Please pray . . .
Next Biopsy shows no bad chromosome.
Platelets start coming back faster.
That Sydney and Lynette come home soon.
We trust and are fully devoted followers of Christ.