Letter from James and Lynette
02/14/2007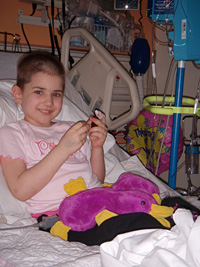 February 14, 2007 10:25 PM

I just returned from New York, and the big picture is great. She is eating a lot. All three brothers visited her this weekend, and that really gets her moving.

The micro picture from the trenches is that it is a beating for Sydney and Lynette. It is a miracle Lynette has held up so well. They released them 10 days ago. Lynette was exhausted. She immediately had to start administering the medication, which is very complicated and dangerous. In hind sight we should have gotten nurses for at least a few days. Sydney still doesn't want her mother out of her sight for long, although that is starting to improve a little. She is horribly thin. Lynette hasn't slept eight uninterrupted hours in weeks.

It is probably hard to understand how constant and draining Lynette's job is; but it is nurse, cook (special diet), maid (germ fears can be maddening), bible study teacher, regular school teacher, entertainer, and comforter just to name a few responsibilities. Lynette would blow off schoolwork, but she thinks it helps Sydney's morale even though it is a struggle.

I have to remember the big picture; Sydney is in her own apartment, scooters on the roof, plays wii (Nintendo) with her brothers and doesn't need supplemental oxygen. It was less than three months ago that I was told I needed to start considering whether we would want to keep her alive on life support, because she was on the fence and leaning toward hopeless. Well I think you remember the rest.

It is truly a miracle when I step back and look at the big picture.

Please pray we keep looking at the big picture.

Grateful,

James

Romans 12:1,2

Therefore, I urge you, brothers, in view of God's mercy, to offer your bodies as living sacrifices, holy and pleasing to God-this is your spiritual a act of worship. 2 Do not conform any longer to the pattern of this world, but be transformed by the renewing of your mind.


---


Hello Everyone,

It is interesting to see James' take on my appearance! I am so thankful he is diligent about updating and I am sorry I have not written lately. It takes me awhile to get clarity on what I feel led to write and I have not spent as much time sitting quietly before the Lord as I did while in the hospital. This is my fault. James is right about me being a little overwhelmed upon our arrival at the apartment. I came equipped with bottled meds in liquid and pill form to be mixed, crushed and measured 3+ times a day. I have needles, syringes, sterile water and powder to mix and IV lines to hook up and run through a pump. It took me a few days to look up again. I now have a pretty good routine down (except my time with the Lord). We went to clinic 3 days the first week and will go 2 days this week. Getting Sydney out of bed at 8:00 a.m. has been interesting. We get there via wheelchair and she usually naps at the hospital.

Sydney has been a new person since she was able to leave the hospital. She has enjoyed a walk to the park (in a wheelchair), scootering on the roof, and today she made a snow angel on the roof! It is great to see her having fun and being a kid again. She loved seeing her dad and brothers as did I. Because I am not at home, I feel like God is giving me a second chance on parenting. When James calls me with problems or parenting issues I can look at things more objectively. I am learning from being removed from home! I also realize how much my positive or negative outlook has an influence on James. Whether it be my attitude or opinion I really need to learn to hold my tongue.

Thank you for your continued support and prayers. Even when I fail to reach for my Bible, the verses and cards you have printed and sent are on our tables and covering our walls. It is a constant reminder of the love of Christ that is urges me to press on.

We love you all,

Lynette

Answered prayers
We are OUTPATIENTS.
They are reducing or eliminating medication.
She is eating well.
Improved emotional well being.
Please pray . . .
Bone marrow grows into a healthy long living marrow.
We get to come back to Dallas soon.
Lynette remains healthy, encouraged and patient.