Letter from Lynette and James
01/08/2007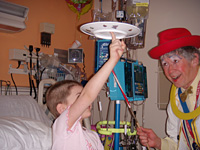 January 8, 2007 6:00 PM

We are in a miraculous place. Sydney has white blood cells and we are on day 23 post transplant. I have prayed and prayed to make it to this day! And I am so thankful we are here. We are at a place where we are no longer massaging pain away, we are sleeping all night and we have more interaction time with Sydney during the day. Things change from day to day. One day she may stay up 6 hours and actually play some with her kitchen and the next she won't want to get out of bed. I have to stay confident when she does not feel good and is getting sick, when she sleeps so much and is tired, and when she will not eat a thing. I have to be careful not to look too far ahead now that Sydney is doing better just as I needed to when she was struggling more.

I am praising God for her total healing and my hope is solely in Him. I am so grateful you would think I would never take my eyes off of Him or think about anything but Him. It is amazing at times I find myself wishing we were further along than we are and I allow petty, controlling and prideful things to occupy my mind. I sometimes look at Sydney and instead of seeing how far she has come I can't help but see the climb we have before us. Yuck, I am embarrassed I can even go there after all He has brought us through. I understand what Paul was saying in Romans 7:14-25.

"For what I want to do I do not do, but what I hate I do…When I want to do good, evil is right there with me. For in my inner being I delight in God's law; but I see another law at work in the members of my body, waging war against the law of my mind and making me a prisoner of the law of sin at work within my members. What a wretched man I am! Who will rescue me from this body of death? Thanks be to God - through Jesus Christ our Lord!"
Thank goodness He continues to pursue me and strengthen my faith even in my weaknesses. Thanks be to God through Jesus Christ our Lord who, through all of you, continues to encourage us to "press on" (Philippians 3:12).

Thank you for staying in the battle with us,
Love,

Lynette


---

I am watching Sydney busily working at her kitchen (Christmas present). She is sitting on a stool working diligently. The playoff game is on in the background. It all seems so normal, except that she is bald, she cannot do much more than sit and we are in the hospital.

Her tummy still hurts, not too bad relative to the pain she has experienced. She doesn't use oxygen at all anymore; it was only about six weeks ago that the doctor said he did not know if Sydney would EVER be off oxygen. She is not eating and is very skinny. Her blood work, however, is looking good.

The head doctor came in and shook his head and said, "Remarkable". They are trying to prepare Sydney to leave the hospital sometime in the next week or two. We will go to a one bedroom apartment a few blocks from the hospital. Because of germs, only she and Lynette will live there. We are praying that we will be able to come home (to Dallas) by the end of March, That is very optimistic. We have such good medical care at Children's that as soon as Sydney is stable they will let us go.

Thank you for all your encouragement,

James

Answered prayers
She doesn't need oxygen.
Blood count good.
Getting out of bed and playing.
They are reducing number and amount of medications.
She is feisty again and has begun to laugh.
Please pray . . .
That she is completely healed.
That she gets out of bed and stands more.
She is motivated to do the necessary work for regaining health.
We are released from the hospital soon.
That we grow in our faith and commitment to God.