Letter from Lynette and James
12/19-20/2006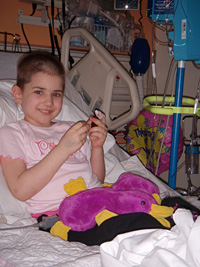 December 19, 2006

The procedure (a 10 hour drip in her line of rabbit protein) went so well yesterday, they want to repeat it Wednesday. This regimen is designed to protect against graft verses host disease. It can have serious side effects, so the nurse comes in and checks on Sydney every fifteen minutes. The doctor says Sydney's body is doing more then he could ask it to. She is doing as well as they could hope for.

I have been with Sydney all afternoon, and she tells me or more accurately orders me around. She has me jumping. Put this video in, put up the other one. She tells me how to do her lung exercises. She shows me which medicines to take and in what order. It is amazing how much she knows concerning her care.

We have watched Muppet Christmas movies all afternoon, and that Miss Piggy is a very gifted actress. Sydney's skin looks as though she has a dark tan, the chemo. Sydney is in terrible pain only 10% of the time. The rest of the time she hurts, but she doesn't complain or even mention it; except to ask for another hot pack which she puts on her stomach. They say the same sores that are in her mouth are in her esophagus and stomach. They will start to heal when her white cells return, not really her white cells, but the donors white cells. Once the transplant is successful, Sydney's blood will look totally different under the microscope verses her pre-transplant blood.

James


---

December 20, 2006

Sydney didn't sleep much last night, primarily due to stomach pain. This morning they started the ten hour regimen of rabbit protein again. We had to get a bunch of oral medicines in her. For seven months she has had to orally take numerous liquid medicines, and she has been great about it. Now with the stomach problems it is a chore to get the medicines down; we will plead with her for hours. This morning I thought we hit the wall. I went out to find the doctor to tell them they will have to abandon the plan for today; she is too beat up to proceed. Once I got in the hall I called Lynette from the hall and she said don't stop, I'll be right there. I hated to bring Lynette back to the hospital; we have to pry her out of here. Being with Sydney is where Lynette feels best, but we have convinced her that if she doesn't take care of herself and gets sick we have a big problem. Therefore, she lets us periodically force her out of the hospital. She goes and works out with our boys or sleeps. By the time I got back to the room, Grand Mommy (big Sydney) had gotten her to take another medicine. I hated to push Sydney past this point; she has endured a horrible amount of discomfort. She never says she won't take the medicine, she says "wait just a minute until I get ready". The problem is these oral medicines are counteracting some of the IV drugs; they are intended to protect the heart, guard against seizures, and other dangerous side effects. Well, Lynette got here, so I took the boys to lunch. By the time I made it back to the hospital, Lynette had gotten all the medicines down her and completed numerous lung exercises. Sydney was tired, but feeling better. Sydney wanted me to sit down next to her and hold her little hand. My kids never seem to let me hold them or their hands unless they are sick or scared. I have not been able to hug her for a long time because of germs. A couple of weeks ago I hugged her anyway, when no one was looking. Then worried about hugging her for a couple of days; it was worth it.

James

P.S. The doctor just came in and said she is doing amazingly well for day 7 post-transplant. He said a blood test showed increase in fungus. That sent a shiver down me. We will know more Friday with the results of the next test.


---

Dear Friends,

God has done far more than I ever imagined with Sydney, though the miracles were not performed in the way I expected or wanted. I consider each day and Sydney a miracle. It has not been as hard for me to obey the command to not be terrified or discouraged. There is a freedom in living by the Spirit and not by sight. I feel I have gained a trust in the Lord that I have never had before. There is no question it helps when things are going better. The more difficult thing for me to do is to function normally outside the hospital and keep up with the boys and James. I am not very good at multi-tasking in this situation. I also have all of these wonderful people around me who are serving me, and I feel like I have fallen short in showing my gratitude because I am so focused on doing the right thing for Sydney. I guess I still have a hard time letting go of control. I have learned how to rejoice in circumstances I never could have rejoiced in before (even when things are not done my way)! I am truly thankful for each new day and I am confident that He is sustaining her and He will get us to the other side.

My Love and Gratitude to all,

Lynette

Psalm 51:10
"Create in me a clean heart, O God,
And renew a steadfast spirit within me."

Answered prayers
The Doctors are very pleased and surprised at her progress.
God is sustaining her.
Please pray . . .
Sydney is healed.
White blood cells show up. Come on cavalry.
That the fungus be alleviated.
Stomach pain stops.
Rash goes away.
God is Glorified.