Letter from Lynette and James
12/16/2006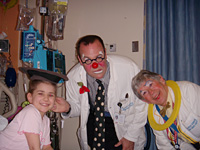 December 16, 2006 11:48 PM

Dear faithful friends,

We are now at day 3 post transplant. Halleluiah! Sydney is in resting in God's hand and He is sustaining her. She is stable today, praise the Lord. She had no fever last night, praise the Lord. The doctor said "I am nothing short of amazed". They are watching her closely and monitoring her lungs, liver, heart, and fluid retention. I am rejoicing over each new day. The Lord is upholding us with His righteous right hand. (Isaiah 41:10) and I am anxiously awaiting His direction for us.

I am constantly overwhelmed by the love He surrounds us with through all of you. Thank you.

Love, In Christ,

Lynette

"The Lord will fight for you, you need only to be still." Exodus 14:14
---

The transplant occurred Wednesday, December 13, at 7:00 p.m. What a MIRACLE that it really happened. (Becky pointed out that it was exactly 7 months to the day from our first night in the hospital) We knew we were trying to get to transplant, but it was questionable every step of the way, if we would make it to transplant. It was only about three weeks ago that one of the doctors said Sydney could possibly go down hill further very quickly and we need to start talking about whether we would want to keep Sydney alive in a vegetable state with only machines. The transplant turned out to be very moving; it felt like we were having another baby. Lynette and her sister went in with the team of doctors. I didn't feel 100%, so instead of taking any chances I stayed outside with the rest of the family. We prayed and then watched through the window as they injected the bone marrow into Sydney. Lynette said we looked like the scene from "While You Were Sleeping" at the token window. As the doctor was walking away and shaking his head, he said, "She is one tough little kid".

Her stomach, throat, and mouth hurt most of the time. She is incredibly weak. They think they hear fluid in her left lung, so they did an x-ray this morning. They are giving her something Monday that will deplete her t-cells, this is to protect against graft vs. host disease, but it can be very hard on the patient. I think they are hoping to see some white cells by next weekend, which is when they will know the transplant is taking hold. No fever today.

Thank you, Lord.

The nurse just got the results of the lung x-ray (afternoon 12/16). The x-ray is improved. The doctor was a little concerned this morning that fluid was building up, so this is great news. The nurse thinks that if the fungus was running you would be able to see an indication of a problem, so the good x-ray calms everyone's fear about the fungus.

Sydney and her platypus are sleeping.

Thank you Lord.

James

Answered prayers
Transplant took place (what a miracle).
She is stable.
We have lots of willing blood donors.
We are doing well.
We are resting in the Lord.
Please pray . . .
The fungus stays at bay.
The fluid regulates to a healthy level.
Her organs are healthy.
She is completely restored to health.
Lynette and the rest of her caregivers remain healthy and their confidence in Christ grows.
That we all grow in our gratefulness towards God.