Letter from Lynette, 11/24/2006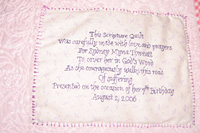 11/24/2006 10:14 PM

Dear Family and Friends,

The day before Thanksgiving a doctor walked by to say he was sorry about Sydney and he hoped we had a good thanksgiving. He asked if we were O.K. and I said, "We have a lot to be thankful for," and we do. On Thanksgiving Sydney was in a little pain, but enjoyed having a crowd around her. The family took shifts going to a local restaurant owned by a family from Ft. Worth. He and his wife opened it up for our family and some friends. My brother- in-law and Tim cooked and we ate family style. It was such a blessing and a wonderful meal. We also had a surprise visit from our pastor and his daughter who joined us. God's timing is perfect.

"Give thanks to the Lord, for He is good, His love endures forever." (Psalm 136:1)

Today I went for a run with my oldest son Jack, what a treat. It was a beautiful day today. When Jack and I departed I walked alone and began praying. I was overwhelmed with the Love of Christ. With tears in my eyes I thought, "I am His"! He had mercy on me and I am His even with all of my pride, selfishness, self-pity, desire for control, and all of the other fleshly things in me (and I am amazed at the things that I still struggle with during such devastation). I felt so grateful for the Lord that He loves me that much, that through Christ I am seen as righteous and I am His. I felt great confidence in His love for me. I passed a couple who asked me about Sydney and all I could say was "Pray for her. Our Lord is mighty and I am so thankful that I am His."

"I will call this to mind, and therefore I have Hope. Your mercies O Lord never cease, for your compassions never fail. They are new every morning. Great is thy Faithfulness." (Lamentations 3:21-23)

There is nothing I want more than for Sydney to be healed and to live a long life. I know God hears me and He knows the desire of my heart. It is very hard to look her and the cancer moment by moment. But I know God is Mighty to Save. He saved me.

"The Lord your God is with you, He is mighty to save. He will take great delight in you, He will quiet you with His love, He will rejoice over you with singing." (Zephaniah 3:17)

We are so grateful for all of the encouraging e-mails, notes, visits, calls and prayers. Thank you,

Lynette

The Lord is my Shepherd.

Answered prayers
There is not a hint of fear in Sydney.
The pain is manageable.
We are mostly at peace.
Our boys are doing great and have been a huge help.
Please pray for . . .
Sydney to be miraculously healed.
Her lungs to be healed.
Fungus goes away.
Cancer goes away.