Letter from James
11/02/2006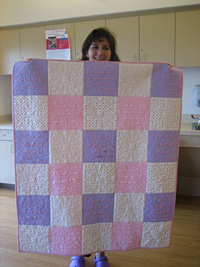 11/02/2006 3:11 PM

Dear Friends,

We are waiting for the doctors to make decisions on Sydney's lungs. It looks like they are going to remove part of her lower left lobe. This was a bit of a shock to me. It took me a little while to recover from the news. My first response was heartache. This will delay the transplant even further.

While we are looking at further delays and surgery, I am finding that waiting is so hard. Each wave that comes makes it harder to look straight ahead. I am tempted to look at just how big the wave is, how long it will last and how hard it might hit. That is when I respond with heartache and it takes effort to say I will rest in Him and He will give me peace.

I went for a walk after hearing the prognosis and heard in my head "Trust in the Lord" and "Love the Lord your God with all your heart with all your soul and with all your mind." (Matthew 22:27) Then I found myself asking, "Am I so slow to learn, Lord? Is it my own sin? Am I not learning the lessons I am supposed to learn? Do I so easily distrust and turn to other comforts (the bag of cookies or a phone call to James) when I feel anxious rather than trust in you? I think it is in these times that I am trying to direct my own path, because what is before me does not seem best for Sydney. Getting my self out of the way and trusting, resting and waiting is hard but in His strength it is amazing that I can say I do have peace. In my mind I again hear "Trust in the Lord."

Sydney has been doing well. She enjoys a daily walk to the gift shop and we try to move around the halls when we can. Her only complaint has been an occasional headache except for tonight when she had an unbearable leg pain. We had to resort to a very low dose of morphine, which is very hard for me to do. It helped and she felt much better. Sydney had a fever, so they had to load her up on a ton of medication. This is also hard for me.

We will know more about the doctor's decision on Monday. Thank you so much for your prayers, I cannot tell you what a comfort you all are to me and Sydney.

Love,

Lynette

UPDATE

They are going to operate and remove some of Sydney's lung (lower lob left side) next Monday.

James

ANOTHER UPDATE

Just in; Sydney's ANC (measure of immune system) is 2700. That is the highest I have seen since the first chemo in June. The fungus will not clear with out good ANC.

Answered Prayers
ANC is strong.
Sydney is happy, and the boys are doing well.
We are at peace much of the time.
Please pray . . .
For Sydney's health to be completely restored.
That God does something so miraculous to Sydney's lung, she doesn't need the surgery.
Fungus infection healed.
That if Sydney is not going to be healed without a transplant, we go to transplant quickly.
Cancer never shows up again.
That donor is available when we need him to be.