Letter from James
10/24/2006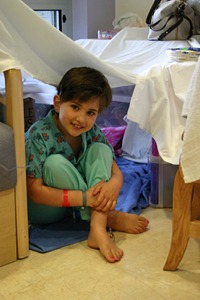 10/24/2006 12:38 PM

Dear Friends,

Sydney's path has been more eventful than is comfortable. I am trying to remember Isaiah 26:3-4 "You will keep in perfect peace him whose mind is steadfast, because he trusts in you. Trust in the Lord forever, for the Lord, the Lord, is everlasting strength.

Sydney is still fighting the lung infection. She has felt pretty good until today when she began to feel a little more tired and her stomach is hurting. She also has a cough that sounds a little worse and she had a fever. We have some other issues, but I will spare you the details. I, however, am at peace. I don't like seeing Sydney hurting and have to admit that her pain has been very little until today. I am trusting in the Lord, and almost feel that each disappointment is building ground for an amazing miracle. It is a miracle alone that I am at peace.

I am amazed at how the boys have handled my absence, (almost too well). A lifesaver for me is the webcam. I haven't had to miss talking to them after school about sports, seeing Jack all dressed up for a 9th grade social, telling James goodbye before leaving for a church retreat, and watching Johnson dance in the kitchen. It is also great for Sydney. She loves to talk to them. It feels like we are sitting in the kitchen with them.

I am so blessed that I have family here with me to help and I can get out of the hospital and outside some each day. I also carry with me all of the scriptures and words of encouragement sent to us through mail and e-mail. It is a constant reminder that we are covered in prayer! There are so many people serving as the pieces in the puzzle to keep our family going. I am deeply grateful for all of you.

Please continue to pray. I believe God has sustained Sydney. He is also comforting me and giving me peace. He has brought Christians to our room and has given us words of encouragement through them. I pray that I will be an encouragement to someone here.

I thank you all.

Love,

Lynette

Answered Prayers
The clot around her heart was nothing.
Sydney has only had one fever.
Sydney is not fearful at a new hospital.
Sydney has a great attitude.
I am at peace and am trusting the Lord with Sydney and the boys.
Please pray . . .
For Sydney to be restored to health.
Infections to be healed.
For all of us to have an unfailing trust in Christ.