Letter from James
10/15/2006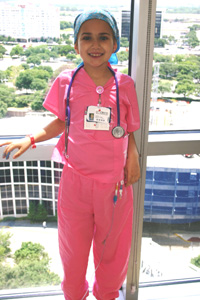 10/15/2006 06:05 PM

Dear Family and Friends,

It feels like we have been living in an episode of "24". We were supposed to be in New York on October 11, however Sydney began running a fever October 6th. You never know how bad or how long the infections are going to be, and it is important that we are not delayed. The doctor says, "We are in a race to get the new bone marrow in". We were still in the hospital October 10th, and the hospital lined up a medical plane to take us to New York, because Sydney had almost no immune system. They were uncomfortable with her not being on antibiotics and having medical personnel with her in case an infection started to run or we were delayed somewhere in route. We however desperately wanted to go on a private jet that was being provided by friends of our parents. We went to New York the first time on this plane, it made things much easier, not to mention the gracious pilots whom Sydney loves. It also helps that the plane was big, because we had a ton of luggage and boxes. The medical plane could only take Sydney and Lynette. The doctors said, "If Sydney doesn't run a fever tonight you can go on the private plane". The verse from Proverbs 3:5 kept coming to my mind. Trust me and don't lean on your own understanding. One thing I think God is saying to me is that I should not use my logic, but instead rely and cling to Christ and trust that he knows what he is doing and he will get us through to the other side. At 1:00 a.m. Lynette called me from the hospital to tell me that Sydney was running a fever, almost 101. We were sick. Another opportunity to practice proverbs 3:5. Lynette had them retake the temp and it was 99.2.

At 7:30 am the doctors decided that Sydney could fly on the private plane. We were ecstatic. We left Dallas around 11:00 am. We arrived on the ground in New York in less than 3 hours. As we were coming in for our landing just minutes earlier a plane crashed on York Street, a few blocks from the hospital. Our drivers dispatch advised that all arteries were closed around the hospital. Another opportunity to practice proverbs 3:5. It was now starting to rain. Our driver was able to get us within about five blocks of the hospital. I decided to just walk there, so Lynette, Sydney, and I set out on foot. We were making good time, but it was starting to rain harder. A few blocks from the hospital, it looked like some kind of epic movie being filmed. There were emergency vehicles and personal every where. The police kept telling us we couldn't get through here, and to go around. So we went around until we came to an impenetrable street. Anther opportunity to practice proverbs 3:5. I realized that leaving the car was a mistake. Sydney was starting to get cold. We were soaked. We were close to the Ronald McDonald House (RMH), maybe we could get a room and dry Sydney off. When we arrived at RMH and immediately saw a familiar face, Amy and Lauren Newman. They were ready to help. I called the doctor and he said, "Do not stay at RMH you need to get here ASAP." Another opportunity to practice proverbs 3:5. RMH contacted the police and they said they couldn't help us. So we cut holes in trash bags, wrapped Sydney up, and put her in a wheel chair. I told a policeman our situation and he let us through the barricade. A lady, unknown to us heard what I told the policeman, and she held an umbrella over Sydney and talked to us about Dallas as we ran to the hospital.

Sydney made it through the night without a fever, the first time without fever in about a week. The next morning we had a biopsy and other test. By early afternoon they had initial results and there was no cancer. Her bone marrow looked good. That evening I was coming back from dinner and the attending physician pulled me aside and said Sydney has an infection in both lungs and they can't move forward on the bone marrow transplant until the infection is cleared. Remember they have told me we are on a race and now they don't know when we can even start the race. Another opportunity to practice proverbs 3:5.

The next morning the doctor tells me that the EKG showed something around her heart. It may be her line or a clot. If the clot has an infection, "they said, "We would need to sit down and talk". That didn't sound real good. Another opportunity to practice proverbs 3:5. They are working with the cardiologist to determine an exact diagnosis. Now it appears a few doctors don't think it is a big problem, but others aren't ready to say yet.

I think what God is trying to teach me in Proverbs 3:5; is that instead of every time something painful happens; I normally lean on my own understanding. In other words, when Sydney runs fever or gets a bad test result I think, "Lord what are you doing; you could change this? Why aren't you? I could understand if this was happening to me, but not Sydney. I would have thought surely by now you would have wiped away Lynette's tears? I think He is telling me don't lean on your understanding. Trust (rely, cling to) Me.

I will not let your foot slip. I will get you to the other side and when I tell you your going to the other side that is where you are going.

Thanks for all your prayers and help.

James

Answered Prayers
Sydney had no fever.
We made it to New York on time.
We were able to all travel together.
No Cancer.
Please pray . . .
That Sydney is completely healed.
Lung infection healed.
Whatever they are seeing around her heart is no problem.
We trust God and not lean on our own understanding.
Proverbs 3:5
Trust in the LORD with all your heart
And do not lean on your own understanding.

P.S. I can't tell you how much we miss Children's Hospital. The love, compassion, sold out dedication we experienced from almost everyone we came in contact with was overwhelming; the parking valets, Doctors, Childlife, Repertory, people in Housekeeping , Techs, and Nurses . . .