Letter from Lynette, 08/15/2006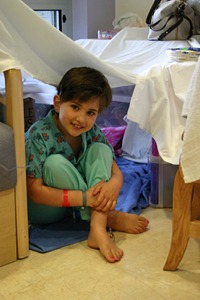 08/15/2006 8:29 PM

Greetings FROM HOME!!!!

Thank you all for your prayers, we are home! Sydney has been fever free and her blood counts came up significantly yesterday (Monday) and we were able to come home. As we took all of the letters, pictures, and verses off of the hospital walls it became just another room. It made me realize how God had transformed that room while we were there to a bright, joyful, warm room surrounded by love. I could actually stop and thank Him for the time that we had there. I could thank Him for the love and care He provided through friends, doctors, nurses, and strangers. We did have fun I thought. I did have peace here even through the tears. He was in this room with us all of the time and I am thankful.

I am also thankful for home. Sydney has had great energy and is feeling well. Although she went to bed at 1:00 a.m. (we are working on that Mrs. Puckett, I promise) she heard her brothers at 10:00 a.m. and jumped out of bed to join them. She has had an energy filled day today. She bounced around on her rubber horse with my old bridle and a little saddle pretending it is the pony she has decided that she is going to buy when she is well. She is also trying to solve the manure problem in the backyard when she gets it.

We will get to stay home for two weeks and are planning to leave for New York the end of August. I was so concerned that with Sydney's lengthy recovery we would not be able to go to N.Y. and make it back before the boys started school. God, however, had a better plan. We do not have to make two trips to N.Y. He provided a way for me to be home with the boys while they start school and then leave for N.Y. I am so thankful and excited to be home.

Our goal until then is to get the boys off to a good start, get Sydney as strong as possible, and keep them all well!

I cannot tell you how beneficial the website has been for us. I still cannot read very many e-mails at a time. They are so touching and so evident of God's love for me that I cannot read them without crying. Thank you all so much. I know we are covered in prayer and I am forever grateful.

Love in Him,

Lynette

Hebrews 4:14-16
Therefore, since we have a great high priest who has gone through the heavens, Jesus the Son of God, let us hold firmly to the faith we profess. For we do not have a high priest who is unable to sympathize with our weaknesses, but we have one who has been tempted in every way, just as we are-yet was without sin. Let us then approach the throne of grace with confidence, so that we may receive mercy and find grace to help us in our time of need.

Answered Prayers
Sydney is recovering and her count is coming up.
No fever or infection.
She is off of antibiotics.
We are home!
I will be here for the beginning of school.
Sydney still likes the hospital and is not scared.
We are growing closer to the Lord and are confident in Him.
Please pray for . . .
Sydney's strength and health.
Cancer stays in remission.
We all have peace when leaving for New York:
"Be strong and courageous. Do not be terrified; do not be discouraged, for the Lord your God will be with you wherever you go." (Joshua 1:9)
Strength, wisdom and stamina for the boy's caretakers.
Successful bone marrow transplant.
The donor.