Letter from Lynette, 08/09/2006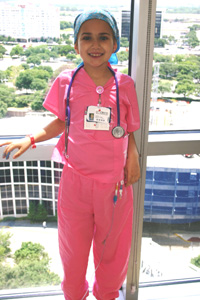 08/09/2006 8:22 PM

Hello dear friends,

We are still in the hospital. It has been a long stay and we have had our ups and downs as far as Sydney's physical health, but spiritually I have been much more at peace. I am learning to not take each step backward so hard and to wait on the Lord's timing. It is a moment by moment effort, but it does make the time here more joyful.

One morning I as I sat quietly talking to the Lord I asked Him to cover me with truth and the song "Onward Christian Soldiers" came to my mind. I tried to remember all of the words. When Sydney woke up I read her devotional to her and it was on Ephesians 6:10-18, putting on the full armor of God. We had a great conversation about Satan's schemes and the purpose of each piece of armor. I needed to be reminded of that! I also love the verse that follows (vs. 19):


"Pray also for me, that whenever I open my mouth, words may be given me so that I will fearlessly make known the mystery of the gospel for which I am an ambassador (in chains). Pray that I may declare it fearlessly, as I should."
I have to quit kicking and fighting and allow God's peace in my heart to even contemplate this. It is a continual struggle to relinquish my will and my need for control and allow His grace, peace and plan to unfold. So I have been able to rejoice knowing that He is in control. It has also allowed me to enjoy the fun that Sydney and I have had this last week even through nose bleeds, transfusions, strong antibiotics and a 1:30 a.m. bedtime.

God continues to comfort and guide me (when I am paying attention!). Sydney has gotten stronger, has not had fever and is starting to eat! Her immunity is still low and we are waiting on the Lord to show us when it is time to go to New York.

The boys are all doing well and are away right now, but they check on their sister daily. They have grown a lot through Sydney's challenges.

At the times when I am most discouraged, you continue to encourage me and turn me back to the truth. Thank you all for your words and prayers.

God is an awesome God!

Love in Him,

Lynette

Answered Prayers
Count beginning to increase.
The boys are healthy.
Over all peace.
No fever for four days.
Sydney is beginning to eat again.
She is feeling better.
Please pray . . .
For total and complete healing.
For good results on the bone marrow biopsy they are doing 8-10-06.
For continued peace and confidence in God.
Donor stays healthy and can wait on our unpredictable schedule.
Lynette can be home for the beginning of school.