Letter from James
07/27/2006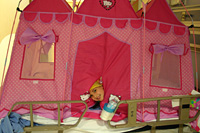 07/27/2006 10:30 AM

The last few days have been the most difficult since that first week. Sydney's fever subsided, but she was in terrible pain. Her lungs partially filled up with mucous and she had to sleep with oxygen close to her face or an alarm would go off and doctors would rush in. The alarm was warning that the oxygen level in her blood was falling dangerously low. Part of the problem was that she had been in bed so long and not taking in any deep breaths, the lower part of her lungs were sticking together and not inflating. The pain in her stomach was so bad that they gave her morphine. It appears her stomach is torn up from the chemo, antibiotics, and other drugs.

Although, her condition is in range of what you can expect with this kind of regimen, Lynette describes the last few days as a battle. Lynette has tried to hold of any medication that is not absolutely necessary, because of the side effects. Lynette is trying to medicate as little as possible because she wants her to move; the doctors told us early on that lying in bed is the worst thing she can do. We used to play up and down the hall, and then we began to just walk the halls, now Lynette just carries her to look out the bank of windows.

As bad as this sounds - and it has been horrific - we are encouraged that Sydney has turned the corner. The last 24 hours we have seen great improvement.

We are supposed to go to New York the first week in August for testing and then return August 21 to begin the bone marrow transplant process.

Answered Prayers
Fever is gone.
Blood count is beginning to climb.
Pain is residing.
Prayer Requests
That Sydney is healed of leukemia.
Pain completely goes away.
Immune system and blood count climb fast.
Body is protected from infection and harsh medications.
That she builds her strength back quickly and is able to go to New York next week.
Everything works smooth with the perfect donor.

Grateful to you,

James

Romans 8:28
And we know that God causes all things to work together for good to those who love God, to those who are called according to His purpose.