Letter from Lynette and James
07/21/2006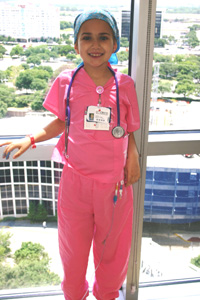 07/21/2006 2:43 PM

Sydney has had very high temperature, 104, which comes and goes since we arrived back at the hospital. They are utilizing a cooling blanket, but her fever still spikes.

The boys and I just arrived at the hospital; Lynette is talking to a doctor. She ask if the antibiotic could cause fever, "yes, she is on a very strong antibiotic".

We just found out that the bacteria is a wimpy bacteria or in other words not very difficult to treat. Lynette observation is that Sydney's fever spikes after the antibiotic has been administered and she has a mild reaction to the drug. The staff discussed and came back with a much milder antibiotic. We are very hopeful that most of her fever has been caused by the antibiotic.

A couple of nights ago Lynette was going to tell Sydney a story, she wanted to tell her about Daniel in the lions den, but then decided to ask Sydney what story she wanted to hear, Daniel and the lions den was her request with out any prompting by Lynette. After the story, Sydney's said, "It's like God is healing me the way He saved Daniel"

I talked to New York and they are very pleased with the donor they have lined up.

I can't say thank you enough for all you are doing and have done. Your prayers, letters, meals, driving and taking care of kids, have been a huge help and encouragement.

Love,

James

Answered Prayers
The bacteria infection is easy to combat.
Sydney is in Remission and bone marrow is recovering.
The Donor has agreed to help.
Prayer Requests
Fever goes away.
Body is protected from infection and harsh medications.
That she builds her strength back quickly and is able to go to New York early August.
That care givers stay confident in God and that we not get fearful.

Hebrews 12:1-3
Therefore, since we are surrounded by such a great cloud of witnesses, let us throw off everything that hinders and the sin that so easily entangles, and let us run with perseverance the race marked out for us. 2 Let us fix our eyes on Jesus, the author and perfecter of our faith, who for the joy set before him endured the cross, scorning its shame, and sat down at the right hand of the throne of God. 3 Consider him who endured such opposition from sinful men, so that you will not grow weary and lose heart.