Letter from Lynette and James
07/13/2006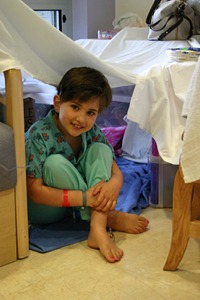 07/13/2006 10:47 PM

Greetings from HOME!

We were shocked to find out that Sydney would be released today (July 13) and get to come home! It is always good to be home. We do love and will miss all of the nurses that took care of us and the wonderful and gifted people at Children's Hospital that give their lives to ministering to the children there. Selfishly, I hope we will get to come visit them and not stay (Although, Sydney has almost as much fun there as she does at home!). We will get to stay here as long as she continues to do well and stays fever free. She is still a ball of energy and is feeling well on this our last day of chemo. We finished at 6:00 a.m. this morning. Sydney so far has handled this round miraculously well. She has chapped lips and a little rash, but other than that she appears to be great. Thank you LORD.

As I wrote last time the first day at the hospital was difficult, but out of the test we endured that day came great news. Sydney's bone marrow biopsy came back showing zero cancer and a bone marrow that is recovering and producing healthy cells. WOW! We were jumping for joy and so thankful for the miraculous news. We know it is a miracle and praise God for sustaining Sydney. I was praying at a scary time and I heard in my heart God say "I will sustain her". I had to go look "sustain" up in the dictionary. "Sustain": to bear, to uphold, to support, to hold, to keep from falling, to maintain, to keep alive, to bear; to endure without failing. What a wonderful word and what a merciful, compassionate and loving God.

We have also heard that N.Y. has found 2 bone marrow matches that are a 10 out of 10 match. If I understand correctly that is as good if not better than a brother! We are rejoicing. God is doing amazing things. I still cannot look any farther in the future than this and trust that the LORD will work out all the details as the need comes. He has led us this far and I still need to look directly to Him and not to the left or the right.

Thank you for your continued prayers. We are so thankful to the LORD for all of His miracles and blessings. We are also thankful for all of you. Your love and support for us has been such a witness to those around us. We are not the only ones amazed by the love that God has showered us with through you.

Trusting in HIM,

Love, Lynette

Psalm 54:4
God is my help; The LORD is the one who sustains me.


---
Answered prayers
No cancer was found the second bone marrow test results.
Sydney's bone marrow is recovering.
Did Sydney have a cough?!
She has not gotten an infection.
Hospitalization insurance worked out.
Lynette's confidence in God and His clear communication with her.
Test results show that Sydney's brothers are not predisposed to Leukemia.
Sydney has not run a fever for weeks.
Sydney's central line looks good.
We have clarity on the place to do the bone marrow, Memorial Sloan Kettering.
We got more time home to let Sydney got stronger.
Sydney handled the second round well.
Sydney appears to be perfectly healthy. She is an energetic, happy 6 yr old.
We have two great bone marrow matches.
Please pray . . .
That the perfect bone marrow match is available when needed.
For her total healing, if she has not already been healed.
That she will be protected from infection.
For protection from negative side effects of any kind.
For her to remain happy, joyful, and at peace.
That we all have complete confidence in God and That we are clearly hearing from him.
That her body is renewed and strong for the bone marrow transplant
Sydney stays fever and complication free.
The boys to prepare for not having us home for awhile.
Lynette to have peace leaving the boys for the time we are in N.Y.
Grateful to you,

James