Letter from Lynette and James
07/09/2006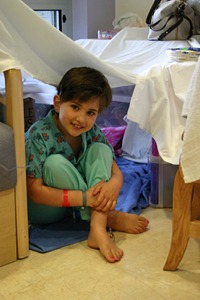 07/09/2006 11:22 PM

Hello everyone!

We really appreciate your prayers the past few days. Wednesday was harder than I expected. We returned to the hospital after two awesome weeks at home and it was a rude awakening. Sydney had a bone marrow biopsy and a spinal then we were taken to her room for 30 minutes and then off for an echocardiogram. She did very well and the echocardiogram looked great. However, the sedation made her sick to her stomach and then we started chemo. What a day. That night I had to explain to James that I didn't mean to be short with him, I just felt a little angry, sad and lonely that day. I felt like we had been lying down in green pastures and by still waters while we were at home and I didn't want to pass through the valley of the shadow of death again (Psalm 23).

I woke up the next morning in the hospital and started reading in my devotional about our journeys through the desert. It was just how I had been feeling. I went on to read that God is with us there too and is refining us and guiding us. We may see a stone, but under it is a spring. Wednesday I saw the stones but by Thursday God reminded me of the springs. I had a new strength and miraculous attitude. Sydney was feeling better too and has gotten over the sore back and is bouncing through the hospital halls again. Her energy is no doubt from God.

My will still wants to try to find things to control and God has reminded me that even though there are so many uncontrollable factors that He is in control and He never changes. He then confirmed this new truth He had taught me. I was walking down the hall at the hospital and could hear singing. It was coming from Sydney's room. Easter (a dear friend) was dancing and singing to Sydney the words of her song were "God never changes". Wow! I could tell you story after story of God's messages to me and then His confirmation of that message.

Friday and Saturday have been good days. Sydney is non-stop motion. Praise the Lord. I am so thrilled that she is getting such great exercise each day. She was also 1 ½ lbs. from her weight when we originally entered the hospital in May. That is a miracle and an answer to prayer! I wanted to rebuild her body to face the second round of chemo and God did.

We are now on day 4 of chemo and will end two of the medicines on the 5th day and end one of the medicines on the 8th day. Sydney has a great attitude! I have faith that God is doing a great and mighty work in her. I have laughed more at the hospital with Sydney than I have laughed in a long time. She is quite a character. Her brothers are doing well also and she still lights up when they come into the room.

We are still overwhelmed by all of the e-mails and constant help we are given. Thank you all so much. You will never know or grasp the countless ways you have encouraged us. We are forever grateful. We are most thankful for the endless prayers.

Thanks be to God for His indescribable gift!

Love,

Lynette

Isaiah 40:28-31
Do you not know? Have you not heard? The Everlasting God, the LORD, the Creator of the ends of the earth Does not become weary or tired. His understanding is inscrutable. He gives strength to the weary, And to him who lacks might He increases power. Though youth grow weary and tired, And vigorous young men stumble badly, Yet those who wait for the LORD will gain new strength; They will mount up with wings like eagles, They will run and not get tired, they will walk and not become weary.


---
Answered prayers
No cancer was found in any of the three test results.
Sydney's bone marrow is recovering.
Sydney's cough is gone.
She has not gotten an infection.
Sydney's blood work is recovering.
Hospitalization insurance worked out.
Lynette's confidence in God and His clear communication with her.
Test results show that Sydney's brothers are not predisposed to Leukemia.
Sydney has not run a fever for over 23 days.
Sydney's central line looks good.
We have clarity on the place to do the bone marrow, Memorial Sloan Kettering.
We get more time home to let Sydney get stronger.
Sydney appears to be perfectly healthy, she is an energetic, happy 6 yr old.
Please pray . . .
That the perfect bone marrow donor will be found and available when needed.
For her total healing, if she has not already been healed.
That she will be protected from infection.
For protection from negative side effects of any kind.
For her to remain happy, joyful, and at peace.
That we all have complete confidence in God and That we are clearly hearing from him.
That her body is renewed and strong so she can take the next round of chemo.
Grateful to you,

James