Letter from James
06/30/2006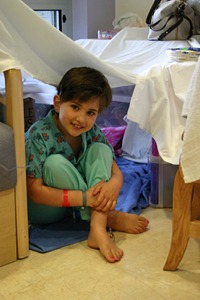 06/30/2006 10:36 PM

God is so good!

He has given us another week at home with Sydney. We are overjoyed to have the time with her. And it will give her body a chance to rebuild and get even stronger. She has been a ball of energy and has enjoyed our evening bike rides and playing with her brothers. Syndey is especially excited she will be home the 4th of July!

They are still not seeing cancer in her test that was done last week. This is huge and has allowed us the extra time at home. Sydney will have to go through 8 days of chemo next week starting Wednesday, because they feel that the cancer is in still in her body somewhere. They are just very pleased that the chemo has done what it was supposed to and they do not see the cancer cells right now. (I know I probably am not explaining this accurately.)

Every once in a while I question if I am doing enough for her health or I begin to think too much about the future. God always speaks to me through His still, small voice, a scripture or words from someone. I am reminded that He is in control. He has gone before us and is going behind us. " O Lord, You have searched me and known me. You know when I sit down and when I rise up; You understand my thoughts from afar. You scrutinize my path and my lying down, And are intimately acquainted with all my ways. Even before there is a word on my tongue, Behold, O Lord, You know it all. You have enclosed me behind and before, And laid Your hand upon me. Such knowledge is too wonderful for me; It is too high, I cannot attain it..." Psalm 139. It is amazing how He reaches me, sometimes I almost laugh out loud with joy and thankfulness for the assurance I have in HIm.

Thank you for your continued prayers. We are still overwhelmed by the love God has surrounded us with. We are so thankful for all of you and feel so connected because of the website e-mails, the many meals, words of encouragement, and letters that are poured upon us. We are still being carried through this. God's grace abounds in us.

Love,

Lynette

Answered prayers
No cancer was found in any of the three test results.
Sydney's bone marrow is recovering.
Sydney's cough is gone.
She has not gotten an infection.
Sydney's blood work is recovering.
Hospitalization insurance worked out.
Lynette's confidence in God and His clear communication with her.
Test results show that Sydney's brothers are not predisposed to Leukemia.
Sydney has not run a fever for over 12 days.
Sydney's central line looks good.
We have clarity on the place to do the bone marrow, Memorial Sloan Kettering.
We get more time home to let Sydney get stronger.
Sydney appears to be perfectly healthy, she is an energetic, happy 6 yr old.
God's guidance in N.Y.
Please pray . . .
That the perfect bone marrow donor will be found and available when needed.
For her total healing, if she has not already been healed.
That she will be protected from infection.
That her cough stays away.
For protection from negative side effects of any kind.
For her to remain happy, joyful, and at peace.
That we all have complete confidence in God and That we are clearly hearing from him.
That her body is renewed and strong so she can take the next round of chemo.