Letter from James
06/20/2006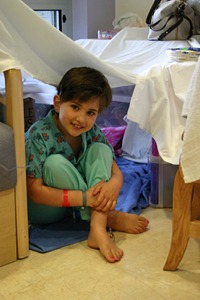 06/20/2006 8:32 PM

They did a bone marrow biopsy this morning. The doctor just came in with the first round of test results. NO CANCER was found and her bone marrow appears to be recovering. I said "It was my understanding that you fully expected to find cancer?" Yes. No cancer was found, but we are still waiting on two more tests results that can reveal cancer or abnormal cells.

We are on cloud nine. We are in the hospital room eating Mexican food. Sydney's big brothers are playing in the hello kitty tent. When the boy's friends hear about that, the boys probably won't appreciate me sharing the hello kitty tent story. Her brother's visits have increased Sydney's risk of infection, but Lynette was sure that the risk was worth it, because the boys always lifted her spirits and motivated her to move around even when she didn't feel good.

Things almost feel normal except Sydney is bald. James and I shaved our heads. Johnson talked me into a Mohawk. Jack buzzed his hair. I think it scares people when they pull up next to us in the car. Thank you for your continued concern and prayers and loving us through this.

Answered prayers
No cancer was found in the first test results from the biopsy.
Sydney's bone marrow shows that it appears to be recovering.
Sydney's cough is almost gone.
Sydney's blood work is recovering.
Hospitalization insurance worked out.
Lynette's confidence in God and His clear communication with her.
Test results show that Sydney's brothers are not predisposed to Leukemia.
Sydney has not run fever for over 144 hours and her energy is improved.
Sydney's central line looks good and her cough is under control.
We have clarity on the place to do the bone marrow, Memorial Sloan Kettering.
Please pray . . .
The remaining bone marrow test show no cancer or abnormal cells
That Sydney's bone marrow continues to function correctly with no sign of cancer
That Sydney doesn't have to go through a second round of chemo
That Sydney doesn't need a bone marrow transplant
That the perfect bone marrow donor will be found and available when needed
For her total healing, if she has not already been healed
That she will be protected from infection
That her cough will completely go away
For protection from negative side effects of any kind
For her to remain happy, joyful, and at peace
That we all have complete confidence in God and That we are clearly hearing from him.
James

Psalm 139
1 O LORD, you have searched me and you know me.
2 You know when I sit and when I rise; you perceive my thoughts from afar.
3 You discern my going out and my lying down; you are familiar with all my ways.
4 Before a word is on my tongue you know it completely, O LORD.
5 You hem me in-behind and before; you have laid your hand upon me.
6 Such knowledge is too wonderful for me, too lofty for me to attain.
7 Where can I go from your Spirit? Where can I flee from your presence?
8 If I go up to the heavens, you are there; if I make my bed in the depths, you are there.
9 If I rise on the wings of the dawn, if I settle on the far side of the sea,
10 even there your hand will guide me, your right hand will hold me fast.
11 If I say, "Surely the darkness will hide me and the light become night around me,"
12 even the darkness will not be dark to you; the night will shine like the day, for darkness is as light to you.
13 For you created my inmost being; you knit me together in my mother's womb.
14 I praise you because I am fearfully and wonderfully made; your works are wonderful, I know that full well.
15 My frame was not hidden from you when I was made in the secret place. When I was woven together in the depths of the earth,
16 your eyes saw my unformed body. All the days ordained for me were written in your book before one of them came to be.
17 How precious to b me are your thoughts, O God! How vast is the sum of them!
18 Were I to count them, they would outnumber the grains of sand. When I awake, I am still with you.