Letter from James and Lynette
06/16/2006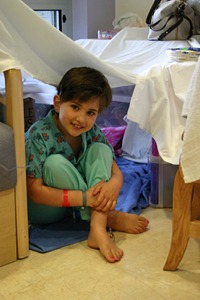 06/16/2006 1:15 PM

Sydney's fever has for the most part gone away. She is rapidly regaining her strength, although her immune system count is still zero which we hear is common.

Sydney sent her mother and Aunt to the gag store to find some "torture tools" (plastic roaches, rubber throw up, and an electronic toot noisemaker), to mess with the doctors and nurses. She is starting to get a little tired of the hospital, but only when she doesn't feel good or is scared. Thankfully she doesn't get scared very often.

Answered prayers
We are relatively at peace
Lauren (another little girl on the tenth floor with Leukemia) got to go home today
After testing Sydney's brothers they are not predisposed to Leukemia
Sydney's has not run fever for over 24 hours and her energy is improved
Sydney's central line looks good
We have clarity on the place to do the bone marrow, Memorial Sloan Kettering in New York City
We had a terrible hospitalization insurance problem that appears to be worked out
Sydney's cough is under control
Please pray . . .
For Lorans successful transplant
That Sydney's bone marrow begins to function correctly with no sign of cancer
That Sydney doesn't have to go through a second round of chemo
That the perfect bone marrow donor will be found and available when needed
For her total healing, if she has not already been healed
That she will be protected from infection
That her cough will completely go away
For protection from negative side effects of any kind
For her to remain happy, joyful, and at peace
Thank you so much for your continued prayers and your emails are always a source of encouragment,

James

Psalm 146
1 Praise the LORD.
Praise the LORD, O my soul.
2 I will praise the LORD all my life;
I will sing praise to my God as long as I live.
3 Do not put your trust in princes,
in mortal men, who cannot save.
4 When their spirit departs, they return to the ground;
on that very day their plans come to nothing.
5 Blessed is he whose help is the God of Jacob,
whose hope is in the LORD his God,
6 the Maker of heaven and earth,
the sea, and everything in them-
the LORD, who remains faithful forever.
7 He upholds the cause of the oppressed
and gives food to the hungry.
The LORD sets prisoners free,
8 the LORD gives sight to the blind,
the LORD lifts up those who are bowed down,
the LORD loves the righteous.
9 The LORD watches over the alien
and sustains the fatherless and the widow,
but he frustrates the ways of the wicked.
10 The LORD reigns forever,
your God, O Zion, for all generations.
Praise the LORD.