Letter from James
06/02/2006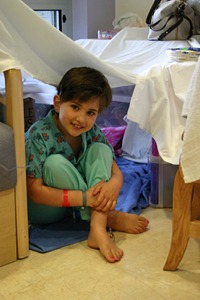 6/2/2006 7:19 PM

Sydney has finished her ten days of chemo. Her immune system went to zero yesterday, however it started to climb today. She has had fever for the last 36 hours, but it has responded well to Tylenol. Her central line seems to be a little infected and she has had a irritating cough.

She still has a great attitude, and appears to amaze the hospital staff in many ways. Last night they awoke Sydney to put her eye drops in. The nurse was kind and gentle, but it was still a painful process. The nurse seemed to be startled when Sydney told her she didn't get the drops in her eyes, and amused when Sydney informed her, that on next try the drops made it to there target, all this without a whimper.

Please pray . . .
For her total healing, if she has not already been healed
That whatever is causing her fever will go away
That she will be protected from infection, especially around her central line
That her cough will go away
That the Lord makes it clear where we should have the transplant
For protection from negative side effects of any kind
For her to remain happy, joyful, and at peace
That our hospitalization insurance problem is worked out
Your notes and e-mails continue to be a source of great encouragement, comfort and inspiration. Thank you so much for these and your prayers. A dear friend copied the e-mails so that Lynette can read them daily at the hospital.

Thank you,

James

Philippians 4:4-7
4 Rejoice in the Lord always. I will say it again: Rejoice! 5 Let your gentleness be evident to all. The Lord is near. 6 Do not be anxious about anything, but in everything, by prayer and petition, with thanksgiving, present your requests to God. 7 And the peace of God, which transcends all understanding, will guard your hearts and your minds in Christ Jesus.